BIOREPEELCI3, Body is an innovative biphasic medical device with the biostimulating, revitalizing and peeling actions, with trichloroacetic acid (TCA) as the main ingredient.
It promotes cell turnover by removing the outer corneal layer cells with selective action on corneocytes' junction bonds. It has 14 active ingredients that contribute to a profound stimulation of skin replication and biosynthetic process, essential to counter the effects of skin aging and oxidative damage induced by the UV radiation and pollution.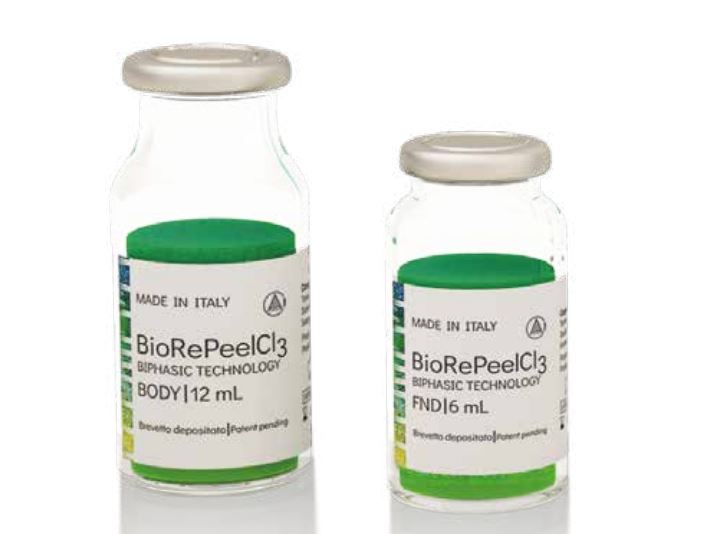 BioRePeelCl3 BODY contains 50% of TCA and can be used for the entire body.
6 AcidsTCA (50%), Lactobionic acid, Salicylic acid, Tartaric acid, Citric acid and Aminobutyric acid (GABA).
4 AminoacidsGlycine, Proline, Hydroxyproline and Arginine.
How it works?
Its biostimulating and revitalizing actions ensure fibroblasts' activity, activate cutaneous proliferating and biosynthetic processes, as well as increase cellular turnover and collagen and elastin production. In addition, hydrophilic phase promotes exfoliation, reduces fine lines by neutralization of free radicals, and helps battling acne, enlarged pores and comedones.
Get the bottle out
With nice two-colored liquid. BioRePeelCl3 consists of 2 phases, namely lipophilic (blue) and hydrophilic (yellow).
Shake it well!
Don't panic, it'll turn green.
Apply and see the magic happen!
Apply on a treated area with nitrile gloves. Massage it into the skin until fully absorbed. Now wait according to the protocol (which you can download above). Wash off and apply BioReHydra post- treatment serum.