Our creme de nuit, crème de nuit is an ideal treatment for dry or mature skin . It nourishes your skin and repairs it during your sleep, when it is at rest and not subjected to external aggressions. This cream will give your face all its radiance .
The softness of this care with a light almond scent brings you a real moment of softness, ideal before sleeping, to have luminous skin as soon as you wake up.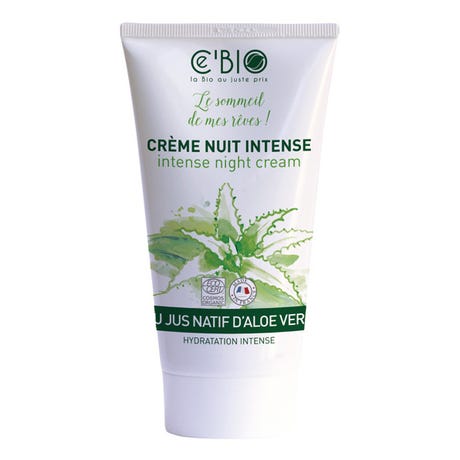 Our assets creme de nuit
Rich in active ingredients, our Firming Night Cream is made up of 6 vegetable oils . Argan oil , rich in vitamin E, is known for its nourishing, restructuring properties and its antioxidant power.
Linseed oil has a softening and moisturizing action , it forms a film on your skin to maintain its hydration .
For fragile skin, our cream also contains macadamia oil which protects, softens and restructures the skin.
Added to this is the effect of shea butter , rich in vitamins, which intensely nourishes the skin and provides it with all the lipids it needs to make it more supple.
In addition to these actions, our cream is also ideal for mature skin thanks to the antioxidant effects of the different oils. Borage oil in particular is known to be a regenerating and anti-aging treatment . While prickly pear seed oil protects the skin from free radicals that may appear during skin aging.
Our Night Cream also contains wheat water and tapioca . They will allow your skin to regain softness and comfort. Witch hazel hydrosol , known to promote microcirculation, is astringent and purifying. It will have a tonic effect, particularly suitable for combination skin.
Ideal for all skin types and applied daily, this treatment will awaken the beauty of your face. Repaired and nourished, you regain a feeling of comfort and all the suppleness of your skin.
How to use creme de nuit
Apply a dab of cream every evening to clean, dry skin on the face and neck.
Shake well to seal the pump on first use.