FILORGA, The ultimate treatment for brighter complexion, diminished imperfections and finer skin texture. Filorga developed the GlykoPeel Treatment, a range of anti-ageing glycolic acid peels to rejuvenate the skin and improve its condition.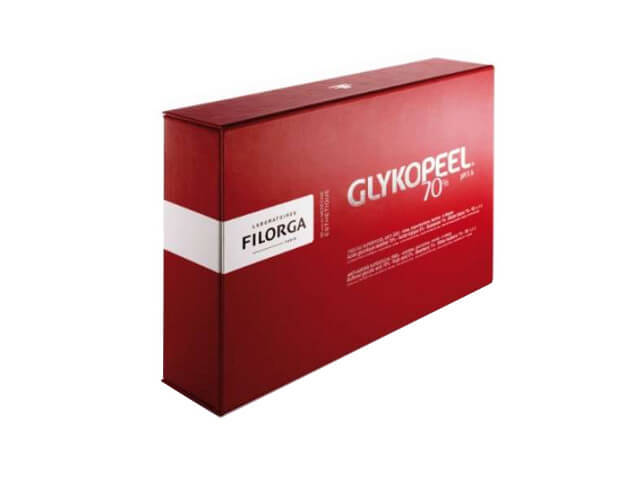 A chemical peel is to apply an exfoliating solution to the skin to improve the appearance of controllably removing the upper layers of the epidermis . It stimulates cell renewal to restore the skin's surface and at depth. GLYKOPEEL ® is the first peeling dermatological glycolic acid , sequential change in pH . It allows a gentle treatment for visible results immediately, without downtime .
GLYKOPEEL ® 70% can be treated so gentle and effective:
• Wrinkles and fine lines
• The spots and pigmentation anomalies
• The sun damage
• The dullness and fuzzy
• The surface irregularities
• Loss of elasticity
• Acne
GLYKOPEEL ® 70% provides a higher level of efficiency tolerant skins and peels accustomed to
proven efficacy
From the first session , the complexion is brightened , imperfections are diminished , the refined skin texture .
After 3-5 sessions , GLYKOPEEL ® restores and revives radiance , tightens pores, smoothes wrinkles , reduces blemishes and improves skin elasticity .
GLYKOPEEL is the first dermatological peeling sequential pH variation
The protocol is adapted by your doctor according to each indication and skin type.
A session lasts about 10 minutes and includes several steps:
• Purification and preparation for peeling ( PREPEEL )
• Application of exfoliating solution glycolic acid for 5 minutes :
a warm sensation may occur : slightly painful, it is normal and indicates the penetration of glycolic acid in the upper layers of the skin. ( PEEL )
• Neutralization and hydration to soothe and provide immediate comfort (POST -PEEL and MIST )
The protocol includes 3-5 sessions one week apart .
Renewable 2 times per year.
composition
18 ingredients in its proprietary formula work synergistically for immediate anti- aging efficacy (brightness, softness ) and progressive (wrinkles, spots).
1 EXFOLIATION
Glycolic Acid 70%
2 STIMULATION
mulberry , brown algae , vitamin E, glycerin
3 PROTECTION
vitamins A and C , glycolic acid
4 CORRECTION
kojic acid, bearberry, vitamin C
PRODUCTS SOLD ON THIS SITE ARE PARAPHAMACEUTIQUES PRODUCTS , THEY ARE SO ON SALE FREE AND DO NOT CALL ORDERS .
THIS PRODUCT IS A MEDICAL DEVICE . THIS PRODUCT DOES NOT BE RETURNED OR EXCHANGE
Careful injection of this product requires a technical medical procedure that must be completed imperatively by a physician ( doctor specializing in dermo cosmetic dermatologist , plastic surgeon ) .