filorga Pigment Perfect is a high concentration serum to erase dark spots on the skin. Oxidative stress is prevented by Pigment Perfect. Vitamin C also helps even out the overall skin appearance and produce a brighter skin complexion. Skin looks flawless again. Plant extracts also contain anti-inflammatory and anti-free radical properties to aid the skins natural protection defences.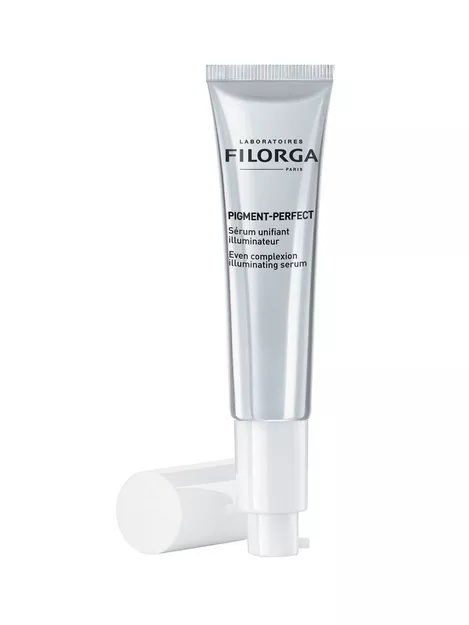 DESCRIPTION
Innovative dark spot correcting serum based on a trio of active ingredients acting in synergy to correct pigmentary defects:
-A hop extract regulates pigmentation by reducing melanin production to visibly reduce the size and intensity of dark spots.
-A new generation of vitamin C offered in its most stable form, evens out the complexion and gives it radiance for luminous skin.
-A plant extract with anti-radical and anti-inflammatory properties protects the skin from pigment spots generated by oxidative stress. Day after day, the complexion evens out and dark spots fade. Also ideal as a follow-up to Laser, IPL or anti-stain peeling treatments.
After two months of morning and evening use:
– Pigmentation defects corrected 85%*
– Unified skin 90% *
– Complexion radiance 82% *
Apply morning and evening, before the day or night cream to the entire face.
In daily care or as a relay for depigmenting peels and lasers.
For an intensive and accelerated anti-dark spot treatment, use PIGMENT-PERFECTî for a minimum of 12 weeks in combination with our Sleep & Peelî treatment.
For all skin types.